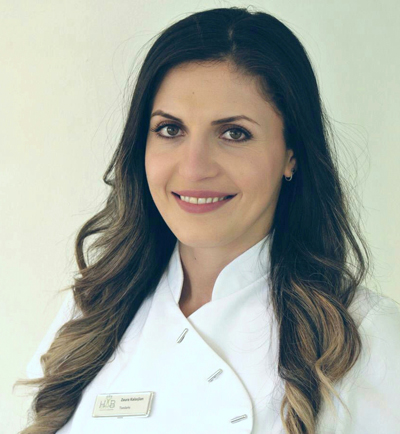 Zaura Kalasjian – Dentist
Zaura successfully completed her dental training at Radboud University in Nijmegen. After her studies she started working as a dentist general practitioner in several group practices. Soon she found out that she wanted more depth in her profession and followed several (inter)national lectures and courses in a.o. reconstructive dentistry. Zaura is very driven and strives for perfection in her field. She can best provide this high quality care at Beekmans Tandartsen, with the most modern techniques, in a relaxed atmosphere and full of personal attention for the patient. The complexity and diversity of dentistry really appeals to her. The teeth not only consist of teeth, but are part of a complex mechanism consisting of chewing muscles, the jaw joint and the corresponding nervous and vascular system. She is currently studying disorders of the jaw joint. Every patient is unique, and so are every single set of teeth, which is why Zaura is happy to create a personal care plan to suit your needs. Together with you, she will look for the best possible result, both functional and aesthetic.
Since Zaura finds your oral health and your specific wishes very important, she invites you to discuss this with her. She looks forward to meeting you soon in the practice.